Welcome to Kualoa Ranch, Paliku Gardens!
Walking out from the covered pavilion, you are dazzled with a view of Chinaman's Hat, a tiny island off the coast of East Oahu. With the sweeping mountains at your back and an expanse of deep blue in front of you, you're surrounded by Oahu's gorgeous local greenery; it's a vista that's worth more than 1,000 words. Stone-scapes, greenery, and warm-hued indigenous flowers circumscribe trees and palms casting dappled sunlight across the rich, luscious grass.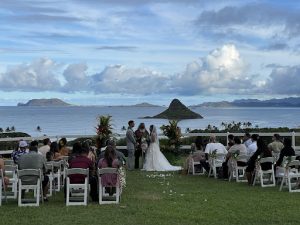 Why We Love Paliku Gardens
We are feeling super stoked to present our newest series of Frobaby Faves: a series of posts telling you all about the rad venues and weddings we have had the INCREDIBLE pleasure to work with.
We LOVE all our venues, vendors, and weddings, obvi. But these posts are gonna give you a little peek into what's so special about these particularly rad ones. We're super excited to tell you about this week's Frobaby fave: Paliku Gardens at Kualoa Ranch!
We are extremely partial to Paliku Gardens for a few reasons:
The idyllic reception locations are only surrounded by mountains, meaning we can play you the perfect music matched to you as a couple.

The ceremony site doesn't have electricity, but our specialized  battery powered equipment makes it easy and simple to run everything electrical that's needed.

Incredible view… who wouldn't want to get married

and

celebrate with family and friends with the dreamy ocean backdrop?
Why YOU Will Love Paliku Gardens
There's a lot to love about this venue, which is why we decided to share it with you first in our series. Read below to hear some technical and aesthetic considerations.

Technical Considerations
Paliku Gardens at Kualoa Ranch offers an open-air pavilion and two different lawns for a grand total capacity of up to 250 at the reception, perfect for large weddings. Parking is free and easy, right next to the main site. Excellent acoustics in the lawn and open-air pavilion. Tent options available so you won't have to worry about rain. Very close to the highly popular Kailua town!
Aesthetic Considerations
This wedding venue offers classic old-Hawaii vibes. Suitable for large wedding parties and dance-loving couples who love a view. Grassy expanses fit the barefoot wedding vibes and bohemian aesthetic, or lend a nice contrast to a more elevated and modern wedding style. An iconic stone staircase, INSANE views, and various alcoves offer dynamic options for photos. PLUS, Kualoa offers gourmet add-on options to enhance your reception menu.

Who Should Book Paliku Gardens
Choosing your venue for your wedding day is one of the BIGGEST decisions to make. Frobaby Faves will hopefully make one of your wedding decisions just a little easier and stress-free.
You should DEFINITELY choose this wedding venue for your big day if:
You love breathtaking views

You DON'T want noise restrictions

You love native foliage and scenery

You want flexibility on the size of your wedding

You want to get married at THE most popular Kualoa Ranch venue