5 Reasons to Tie the Knot at Paliku Gardens at Kualoa Ranch
Are you looking to create a truly memorable day for your wedding? Look no further than Paliku Gardens at Kualoa Ranch in Oahu, Hawaii! This enchanting venue is perfect for couples who want their special day to be everything they've ever dreamed of. Here are five reasons why you should consider Paliku Gardens the backdrop for your wedding celebration:
1. The Picturesque Ocean & Mountain Views
A Paliku Gardens wedding offer breathtaking views of the Kualoa Mountains and a beautiful backdrop for your special day! With its picturesque views of the Kualoa Mountains, your wedding photos will be Instagram-worthy  the second you set foot on the grass. Picture yourself standing amongst the lush greenery, saying your vows to the love of your life, with the majestic mountains in the background. It's a scene straight out of a fairy tale! The natural beauty of this venue makes for a unique and unforgettable experience that you and your guests won't soon forget. Book your date now, and get ready for a magical wedding day amidst the breathtaking backdrop of Paliku Gardens.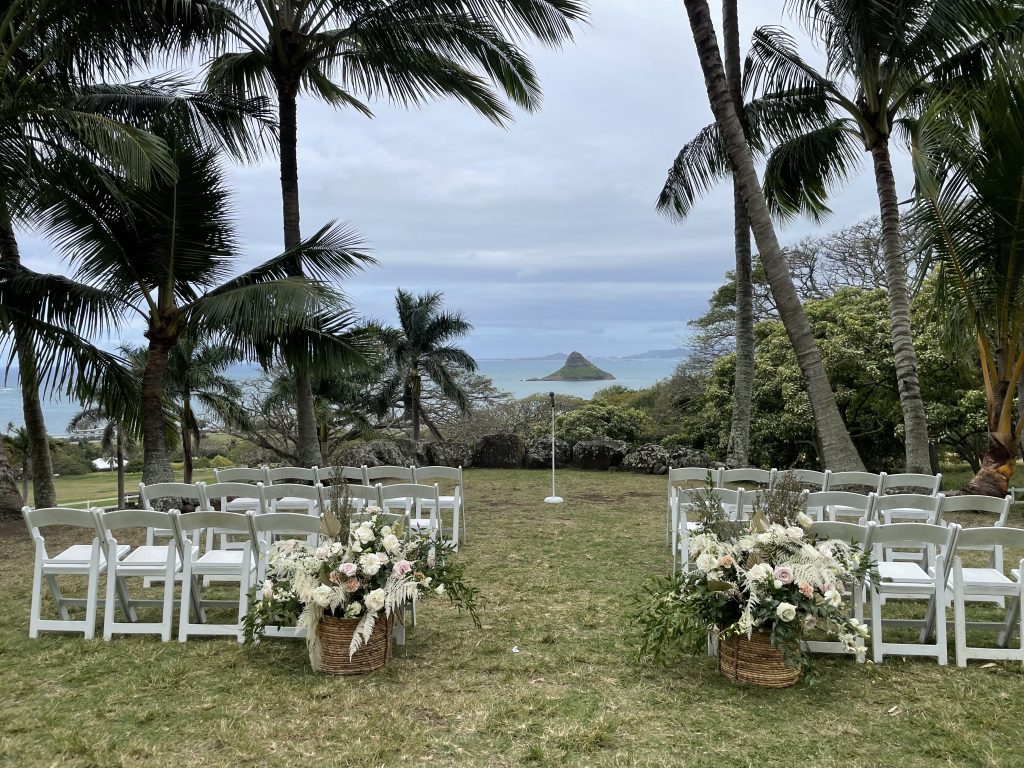 2. The Convenient Location of Kualoa Ranch
Located near the beach and other iconic Hawaiian attractions. What's better than getting hitched in paradise surrounded by lush greenery and crystal blue waters? Nothing… Paliku Gardens is it. This gem of a spot is conveniently located near some of Hawaii's most iconic attractions, including stunning beaches and natural wonders. With the combination of convenience and beauty, there's no better place to get married in Oahu.
3. Paliku Gardens offers a luxury experience for your guests.
From the moment they enter this lush oasis, they'll be transported into an enchanting world of romance and elegance that will make their special day even more unforgettable. Guests can Who wouldn't want to say "I do" with the ocean breeze in their hair and the sun on their face? So say aloha to your new life together and let Paliku Gardens set the stage for your happily ever after.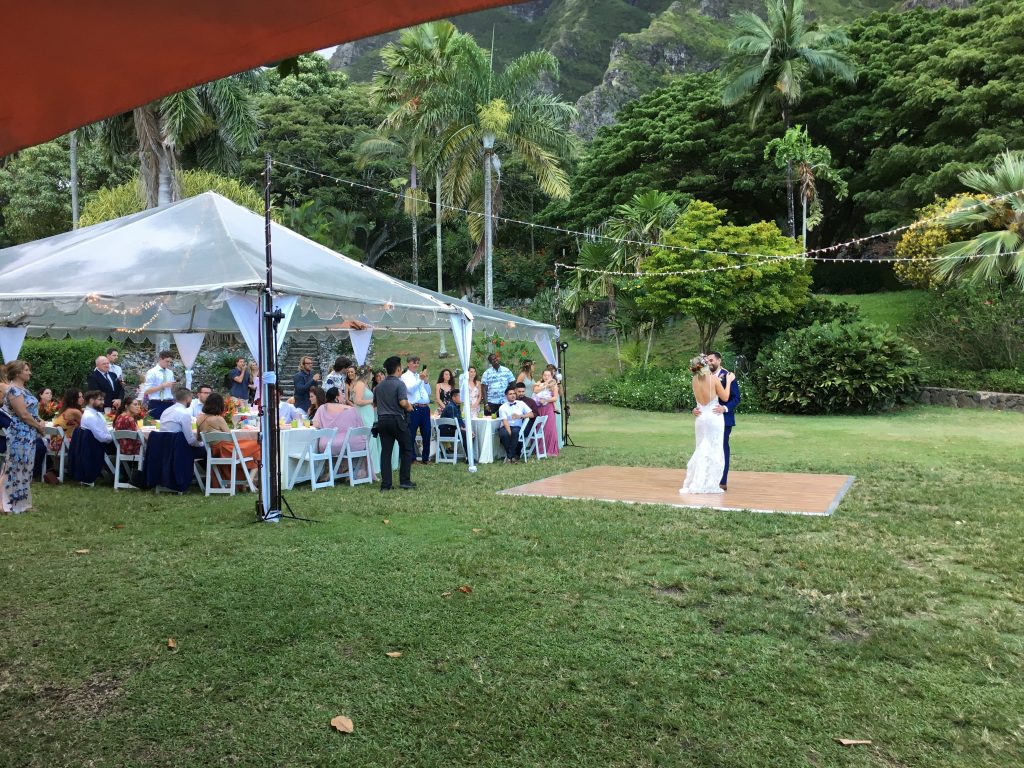 4. The Availability
This venue offers flexible booking times, making it easy to plan your dream wedding without stress or worry. Whoever said planning a wedding was stressful clearly hasn't discovered this gem of a venue! With flexible booking times, you can say goodbye to the headache of trying to fit your big day into the limited availability of other venues. This means more time to plan those Pinterest-worthy centerpieces and a stress-free experience to boot. You can finally say "I do" without feeling like you need a vacation from wedding planning! So go ahead, plan your dream wedding without breaking a sweat – this venue has got your back.
5. The Amenities
Paliku Gardens has a kitchen, restrooms, bride room, tables, chairs, and more. Are you looking for a venue that has it all? Look no further than Paliku Gardens and its amazing amenities! With a kitchen, open air pavilion, restrooms, and even a bride room fit for royalty, this venue has got all the bells and whistles that you could ever need. But that's not all, folks! The tables and chairs ensure that your guests will be comfortable throughout the entire event. And if that's not enough to convince you, there's even more!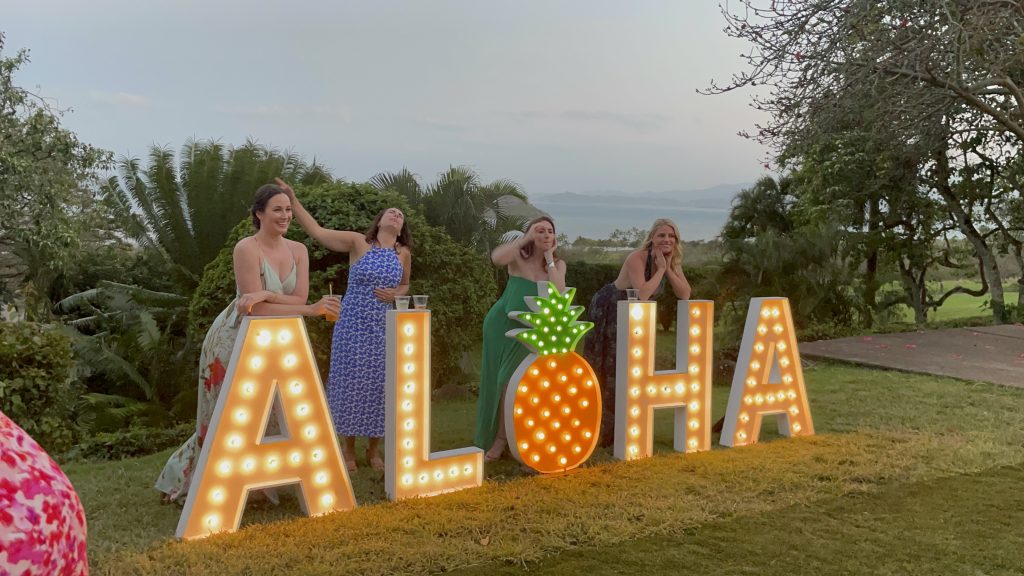 6. Tropical Wedding Venue Atmosphere
With lush greenery and natural beauty abound, Paliku Gardens is truly an idyllic setting for your ceremony or reception! Whether you're surrounded by leafy ferns or tall swaying trees, you won't find a more idyllic setting than Paliku Gardens. With the Ko'olau Mountains on one side, and ocean views on the other. It's truly breathtaking. You've got to check out the amazing atmosphere for yourself! Trust us, it won't disappoint.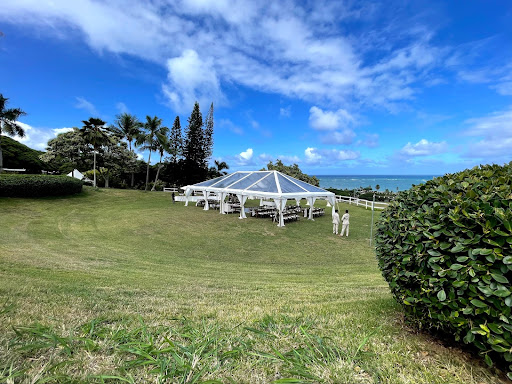 7. The DJ Can Play the Music Loud
Nothing sets the mood of a wedding like music. And with Paliku Gardens, you can be sure to have the best tunes playing throughout your special day. The DJ will have plenty of space for sound equipment, so they can play your favorite songs loud and proud! With no hotel guests in the area, we can crank up the volume, boost the bass, and have a thumping party into the night amidst one of the most beautiful backdrop Hawaii has to offer.
To wrap it all up, this wonderful destination has so much to offer – breathtaking picturesque views, convenient location, great amenities, and an atmosphere that's out of this world. Whether you're looking for a place to relax, take in nature's beauty, and have your wedding celebration off the beaten path – this is definitely the spot for you! So why wait? Make sure to check out this fabulous wedding venue soon – you won't regret.
Looking for a DJ team that specializes in wedding ceremonies and reception at Paliku Gardens? The Frobaby DJ Team has everyhing needed!
And here's a video of a wedding the Frobaby DJ team did at Paliku Gardens: