Nick and Fatima's Wedding at Kualoa Ranch: Jumanji Site
Fatima and Nick were such an amazing couple to work with. Their energy and VIBRANCE was just undeniable. In Hawaii, when it rains sometimes it POURS. Our DJ team and wonderful fellow vendors are always prepared. We loved Nick and Fatima's wedding. We work closely with fellow vendors long before each wedding to ensure there isn't any stress for our AWESOME couples. We loved seeing Fatima and Nick enjoy this gorgeous day, totally focused on each other and their wedding party.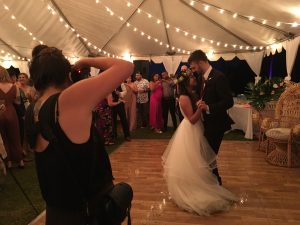 Challenges for Fatima and Nick
Hawaii is known for its gorgeous beaches, stunning sunsets, and lovely weather. But every place, however spectacular, experiences inclement weather once in a while. The east side of Oahu is notorious for surprising bursts of rain. Rain is the reason we have such lush foliage and stunning greenery. We loved the colors during the drizzle, and the soft glow it created for Nick and Fatima's photos once it cleared! 
Why it's a Frobaby Fave Wedding
This wedding got a spot in our Frobaby FAVES because Nick and Fatima, and all their guests were totally unfazed by the unexpected rain. You can plan all the details in the world, but sometimes the cards fall differently than you expect! Instead of shying away from it, our couple and their party rolled with it, making this extra special wedding one for the history books amongst us vendors. Plus, the tented reception was OFF THE HOOK.
How Frobaby Helped Make the Day
With so many weddings under our belts, our team knows to always expect the unexpected. DJ Nate's equipment was placed atop a pallet that just barely cleared the streaming water. Guests and vendors alike were dripping wet as the rain came down through cocktail hour! Not a SINGLE person (guests and vendors alike) let that stop them from enjoying the day.
DJ Nate played "I'm Walking on Sunshine" and other high-energy songs to maintain everyone's high spirits and happy vibes. The lovely couple, huge fans of dinosaurs and Jurassic Park, donned Dino Suits for the reception. The creative ideas our couples come up with are SO unique. Fatima and Nick ordered the CO2 Cannon addon, and DJ Nate perfectly timed the big moment to BLAST the entire dance floor.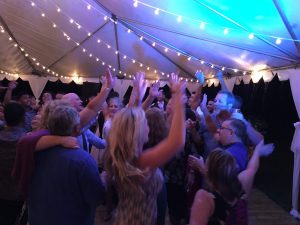 Watch for Yourself
Words can't even do justice to how outstanding this day truly was. Watch the clips using the links below to get a sense of just how much love, joy, and rocking energy this day had for everyone.