Wazzap! The Marine Corp Ball that I DJ'd recently was "off the hook!" What an amazing party! After the ceremony, speeches, and dinner, it was DANCE TIME! And, we got it on. We started rocking the music at about 8:15pm and were going strong until ending time at 10:30pm. If we had the time, we could have kept going. I was really stoked on the feedback, I'll post a video later after I edit out the language. Apparently I'm a $#$%&@ good DJ, LOL! The Marine who hired me was also stoked as were the high ranking Sergeant Majors because the Marines were out there dancing and having a good time. (I guess last year, the DJ wasn't so hot and almost everyone left after about half an hour…yikes!)
My setup was looking pretty slick! Here's a pic of the front view during a sound check before the guests started arriving. In the front, I have my uplit dj screens, glow totems with rotating heads on them, lights on the speaker stands, and lights on the T-bar behind booth. I also had the smoke and haze machines going. I recorded some video and will post that on my YouTube channel soon.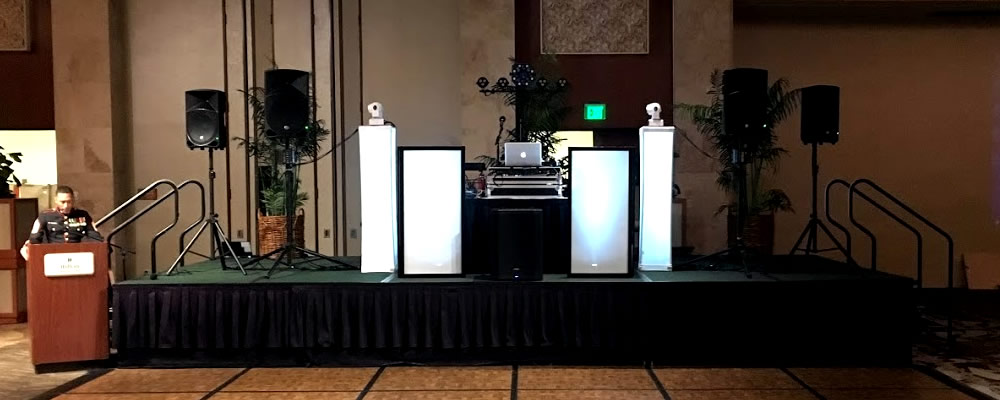 The speaker system was rocking the room. You see I have 4 top speakers. On the outside there are two 12″ Mackie Thumps angled to the sides of the room. Inside those there are two 15″ Mackie Thumps for the center and dance floor. And, in front of the DJ booth is an 18″ Presonus Air subwoofer. The bass was booming!
I take care of our military groups with awesome pricing as a thank you! And, this was no exception. It was an honor to rock this party and look forward to doing another. Got a military ball coming up and looking for a great DJ, hit me up, I'm easy to work with and professional.