Lucette and Kris' Hora Loca Extravaganza
Lucette and Kris' Dance-filled Wedding at Disney Aulani
Lucette and Kris had family flying in from all around the world. The bride and groom wanted a spectacular reception, particularly an "Hora Loca" (Crazy Hour) that no one would forget. Our DJ team loved researching music and working with the couple to make this reception a homerun.

Kris and Lucette's Super Unique Reception
WOW! This one made our Frobaby Faves list because Lucette and Kris pulled all the stops. Uplights, a stilt water, a moving spotlight, live conga drummer, programmed dance floor lights… the whole Shebang! We loved helping Kris and Lucette make their vision come to life on this special day full of family and friends.
How FroBaby Helped Make the Day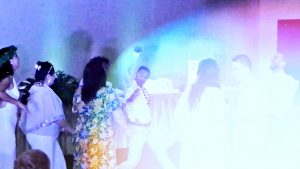 We coordinated additional entertainment such as the stilt walker and conga drummer. Our production team spent hours crafting playlists and programming the light systems to play perfectly in time with the blasting music.
Direct coordination with Aulani Coordinator Christian meant Lucette, Kris, and the entire gang didn't have to worry about ANYTHING except dancing the night away. 
Watch for Yourself
Watch the clip on Instagram to see just how spectacular this evening was. We are so stoked when we get to work with such incredible couples! Seeing HUGE smiles on everyone's faces all night long is why we just LOVE what we do.