How do I find a great DJ near me?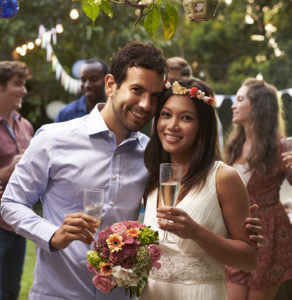 Wondering how to find a good wedding DJ near you? Here's how…. The reason I'm writing this post is actually because a good friend of mine, who used to live in Hawaii but recently moved to the mainland, messaged me the other day asking how I suggest he finds a good DJ in his area. In a nutshell, here's what I shared with him. First, ask around. A personal referral is always the best. However, when someone gives you a name, be sure to ask if they are any good. Just because you've been referred to someone, doesn't mean that they're professional or are going to be serve you well. If those you know don't know any one, ask them if they know someone who knows someone. Okay, Nate, but what if nobody knows anyone and I'm totally in the dark? Then, what? That's when you'll probably take your search online. Here are some places to search, and the pros and cons of each:
Google: A great place to start! Feel free to click on those who are running ads and those who show up in the regular results. If they're running ads, they're probably successful enough to have the budget to run an ad campaign. Also, click on the regular results. These are companies that have probably been in the game for a while and have experience. And, go ahead to the 2nd and 3rd pages as well. You'll find some great DJs on those pages as well, and they may be a little more affordable.
(Be sure to check out their website! I believe that how we do one thing is how we do all things. If the website is a mess and unprofessional, you can probably expect the same from your DJ.)
Yelp: Many of us have a love/hate relationship with Yelp. Love it or hate it, it's a good place to find quality people. If the Yelp reviews are consistently bad, steer clear. If they're good, reach out. The life of a mobile DJ isn't perfect, so do be scared by a 4.5 star rating for a DJ. Maybe it rained on someone's wedding and which made thing challenging for the DJ, or something like that. My ratings are currently 5 stars, but a slightly lower Yelp rating shouldn't be a turn off.
Wedding Wire & The Knot: DJs pay to be in these directories. It's really a sea of listings, so it may be hard to decipher who's good and who's not so good. Reach out to several and see who you click with.
Thumbtack, Gigsalad and others: These are directories that DJs put themselves in to get leads. The way most of them work is, you put in a request for the date and need you have, then the system sends the info out to a bunch of DJs, who respond is they're available. When they respond, they get charged between, $20 and $40 for the opportunity to connect with you, so please don't use these services if you're not serious about hiring a DJ.
Your Venue: Sometimes a venue has a preferred vendor list that has done events at your venue before. That can be a source of options as well.
Good luck on your hunt for a great DJ! If you're in Hawaii on the island of Oahu, of course, I'd love to be your DJ! Reach out any time.